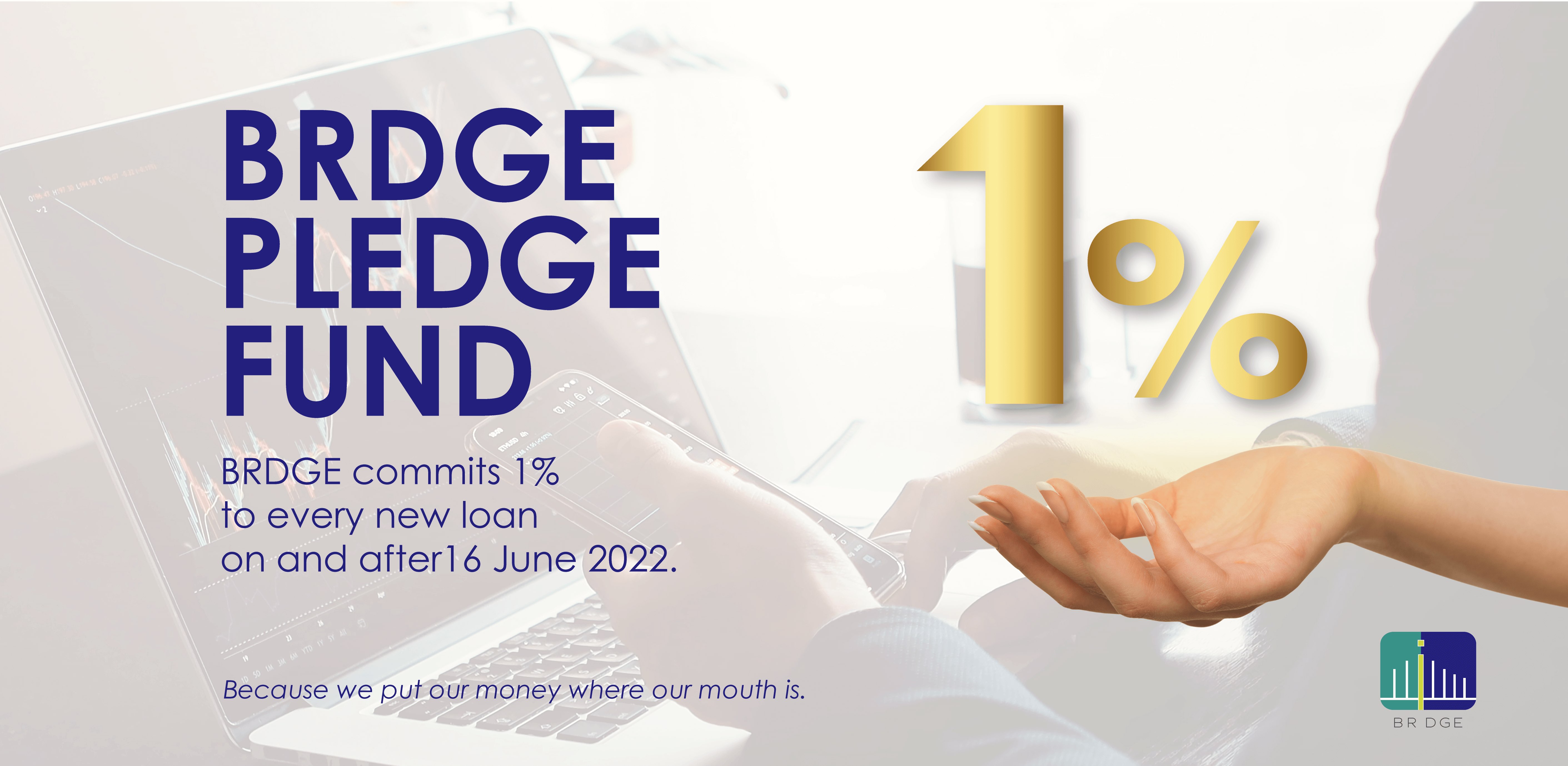 4 July 2022
Singapore P2P platform BRDGE takes a bold step to launch this company-wide initiative of committing 1% to every new loan on and after 16 June 2022.
The BRDGE Pledge Fund contributions are by BRDGE shareholders, management, and employees. The monies from this company pool will participate in every loan that goes live on the platform regardless of loan quantum, interest rate, tenure, security or industry. 
The BRDGE Pledge Fund is a tangible action of 'putting your money where your mouth is' – an adage that signals action instead of merely words.
The Management of BRDGE explains: "This radically changes things up for BRDGE and its stakeholders. As a P2P lender, we are sometimes regarded as an intermediary that provides solely matching services. Now that we are putting a stake in every SME borrower's loan, placing ourselves in the shoes of a Matched Lender becomes more apparent to the ecosystem."
This elevated status from providing a service of matching to having vested interest, is a positive reflection of the company's commitment to all stakeholders – both Matched Lenders and SMEs.
"We trust our robust credit assessment process and the BRDGE Pledge Fund is an attestation to that. In addition, we have always been for the idea of supporting SME businesses, being a fellow SME ourselves, therefore we cannot think of a better way to champion them than to participate in each of their loans," added BRDGE Management.
The BRDGE Pledge Fund is also a perfect representation of diversification. As BRDGE is committing 1% into every loan with zero selection bias, the company is putting its funds into several diversified loans. BRDGE strongly encourages Matched Lenders to embrace diversification.
With the BRDGE Pledge Fund signalling a more robust credit assessment process, BRDGE's platform is well-positioned to serve both our valued Matched Lenders and SMEs.
View the current deal supported by BRDGE Pledge Fund